The Weight of the Plow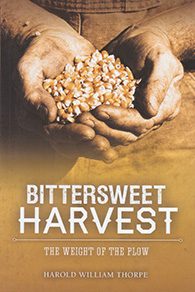 The second book from author Harold William Thorpe continues the story of Will and Mary O'Shaughnessy of Iowa County, Wisconsin. Will has left behind Ashley Springs, and his car dealership, and moved his family to a dairy farm in the hills of southwestern Wisconsin.
Now, as the Great Depression gives way to World War II, his daughters are growing up. Neighbors are driving gasoline tractors, but he's still plowing with horses and milking by hand.
Will is living his dream. But challenges bear down. His wife, Mary, insists on taking in their wild teenage niece from Texas. Accidents, unreliable farmhands and weather take their toll. Bills are piling up. He's wrangling with other dairy farmers about forming a co-op. His troubled, maimed brother Jesse might be back. And did someone purposely set out to sicken his herd? Will is beginning to think that his grandfather was right, that he doesn't have what it takes to run a farm.
[maxbutton id="1″ url="https://haroldwilliamthorpe.com/wp-content/uploads/2018/06/sample_BittersweetHarvest.pdf"]  [maxbutton id="6″]
Reviews
A southwest Wisconsin farmer is tested by economic storms while raising teenage daughters, trying to cooperate with other dairymen and mourning local boys lost to war in 'Bittersweet Harvest: The Weight of the Plow,' (Little Creek Press) part two of Harold Thorpe's four book epic series. Thorpe's writing only improves in this second installment, with richly researched, abundant historical color, deepening characters, a smoothly winding plot and a story that alternately makes you laugh, wince and reflect on how life isn't always fair, but is always what you make of it.
Thorpe's familiarity with southwest Wisconsin radiates authenticity as only a writer who has long lived in the area could provide. A beautifully woven, continuing saga of one man's determination, despite the odds, to work his own land. –Inkspots, Inc.
---
Book Cover design by Little Creek Press. Image © Lincolnrogers/Dreamstime.com.