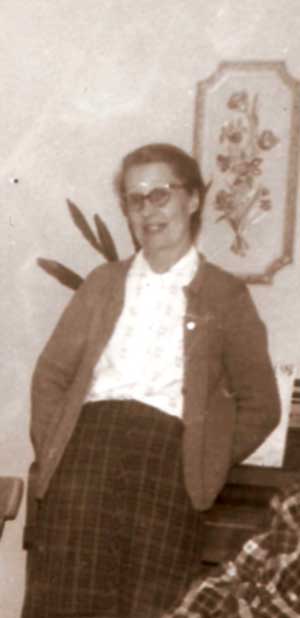 My mother, Laura Annette Fitzsimons-Thorpe, wrote poetry throughout her life. She wrote for every occasion, but she seemed to write her best when life was its hardest.
We lived on Wisconsin Street in Mineral Point, Wisconsin, when I was in seventh through tenth grades. Ruth and Bob Mitchell, owners of the local hardware store, lived across the street from us. They had two beautiful young daughters, Mary and Martha. Mother would often babysit them when Ruth and Bob wanted an evening away. She loved those two little girls almost as much as she would her own children.
Then tragedy hit. Mary was struck and killed by a large truck while playing outside their house. The whole neighborhood was devastated. I was twelve years old at the time, but I could see how distraught Mother was, so when she retreated to her bedroom to write, I didn't intrude.
After several hours alone, she emerged with a poem that was so sensitive to the Mitchell's deep hurt that sixty years later their oldest son, Mike, remembering Mother's sympathy at the time of his sister's death, asked to sing at her funeral.
Mike's a beautiful singer who sang acapella at the funeral because the church organ wasn't working. Unexpectedly, he pulled a copy of Mary's poem from his suit coat pocket and read it while explaining, "Laura was there for my family during their time of deep sorrow—and I want to be here for Laura's family during their time of sorrow."
Mother inherited an Irish humor from her father, Will Fitzsimons. She could invoke a witty saying even during her darkest moments. She wrote several poems that reflected that humor, one that I'll present to you now.
This was written after she had already felt the effect of those "Golden Years" for longer than she'd admit.
My Get Up and Go Has Got Up and Went
How do I know my youth is all spent?
My get up and go has got up and went.
But in spite of it all, I'm able to grin
When I think of the places my get up has been.
Old age is golden, so I've heard it said.
But sometimes I wonder as I get into bed.
With my ears in a drawer, my teeth in a cup,
My eyes on the table until I wake up.
Ere sleep dims my eyes, I say to myself.
Is there anything else I should lay on the shelf?
I am happy to say as I close up my door,
My friends are the same, though perhaps a few more.
When I was young my slippers were red.
I could kick up my heels, right over my head.
When I grew older, my slippers were blue.
But still I could dance the whole night through.
Now I am old, my slippers are black.
I walk to the store and puff my way back.
The reason I know my youth is all spent,
My get up and go has got up and went.
But I don't really mind when I think with a grin,
Of all the grand places my get up has been.
Since I've retired from life's competition,
I busy myself with complete repetition.
I get up each morning, dust off my wits,
Pick up the paper and read the "obits."
If my name is not there, I know I'm not dead,
So I eat a good breakfast and go back to bed.