Downtown Mineral Point, Wisconsin, holds a special place in my thoughts and memories. In my O'Shaughnessy Chronicles novels, Mineral Point is fictionalized as Ashley Springs.
"Ashley Springs' main business district, High Street, ran uphill a half mile from Commerce Street at the lower end of town to the state road on the village's northwest perimeter. Samuels' Department Store seemed as good a place as any to start his search. So he raced down High Street and entered the door underneath the cast-iron dog.

– Giddyap Tin Lizzie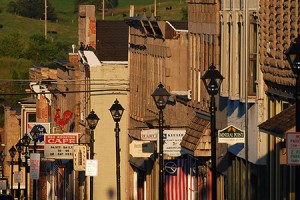 When I was an infant, we lived on my grandparents' farm outside Mineral Point.
In 1949, when I was eleven years old, we moved to Mineral Point. We lived at 611 Wisconsin Street, on the south side.
Across the street from us lived Ruth and Bob Mitchell, the owners of Mitchell Hardware. Mitchell Hardware was the inspiration for Mason's Hardware in Giddyap Tin Lizzie.
We lived in Mineral Point until 1953.
Because we didn't own a car in those years, I walked — usually ran — the steep hills of Mineral Point. From our house, it was ten blocks to downtown. Sometimes I'd take the even longer route through the old cemetery, past the grave sites of my great-great grandparents.
I'd walk down to Commerce Street and imagine that this may have been where my Grandpa Will Fitzsimons, (Will O'Shaughnessy in the O'Shaughnessy Chronicles) had his Ford dealership.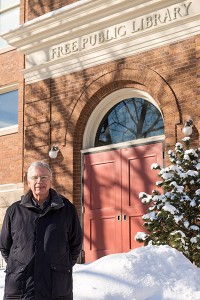 Then I'd walk up High Street to my favorite place in town — the old Mineral Point Library. In the seventh and eighth grades, I read every age-appropriate book in that library. I still remember my two favorite stories, Circus Shoes and The Green Turtle Mystery.
Thanks to preservation efforts, downtown Mineral Point remains a special place today.
Construction in the downtown commercial district began in earnest in the mid-19th Century, as mining for lead, zinc and other minerals exploded and the population soared. The architecture of many of the commercial buildings is reminiscent of Cornwall, England. Many early Mineral Point settlers – some of whom were builders – emigrated from Cornwall.
Downtown Mineral Point soon grew into a thriving commercial area with scores of shops by the 1850s that sold everything from groceries to boots to jewelry. There were several hotels. Local residents who had amassed fortunes in mining and other pursuits built large, elegant homes in the surrounding neighborhoods.
The city of Mineral Point was incorporated in 1857.
In 1897, a fire swept down High Street, destroying several businesses. In the years after that, as local mining declined in the 20th Century, many homes and businesses fell into disrepair. Many older structures were demolished.
That began to turn around in the 1930s, with the restoration of Pendarvis, a group of limestone cottages that are now a Wisconsin Historical Society site.
In 1971, downtown Mineral Point was added to the National Register of Historic Places.  It was the first city in Wisconsin to have a designated historic district. More than 500 structures, many built out of local stone, lie within the district. It is roughly bordered by Ross Street, Shake Rag Street, Ninth Street and North Bend Street.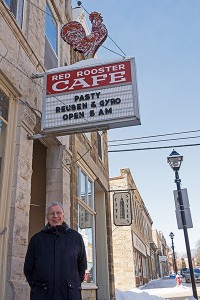 Today, downtown Mineral Point is home to a flourishing, eclectic mix of art galleries, workshops and studios, antique shops, clothing and other types of boutiques, gift shops and restaurants.  Shake Rag Center for the Arts is housed in historic buildings on Shake Rag Street.
Many original architectural elements remain.
A dog cast of zinc still overlooks a 1860s storefront at 215 High Street, the former site of Gundry, Gray & Co. department store. The dog is cast in zinc to honor the zinc mining that once spurred the local economy. The building now houses Gray Dog Deli.
In recent years, restoration work has been completed on many downtown sites, including the Mineral Point Public Library, the Mineral Point Opera House and Walker House, a 1830s hotel.
Work continues on other restorations, including the Orchard Lawn/Gundry House on Madison Street. Built in 1868 and saved from demolition in the 1930s, it is now a museum owned by the Mineral Point Historical Society.
When I go back to Point, I remember my history there, and my family's history.  I'm thankful that the city's leaders have made few changes, have retained the historic buildings, and in many cases have improved the places that I remember from my youth and those that my mother and grandmother told me about.
Mineral Point Photo Album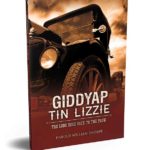 The O'Shaughnessy Chronicles, set in Iowa County, Wisconsin are based on real people, places and events in Harold Thorpe's family history. Learn more.
All images ©2014 Terry McNeill
To see more of Terry McNeill's photographic work, follow him on Capture Wisconsin.