When 28-year-old Charles Galle arrived in Mineral Point, Wisconsin, in 1902, his possessions included the clothes on his back and a small packet of Italian pepper seeds. He had carefully carried the seeds from his home in the southern Italian region of Calabria, across the Atlantic ocean, through Ellis Island, to Chicago, and finally to Mineral Point.
One hundred and twelve years later, his grandson, Joe Galle, still plants the descendents of those seeds each summer in his garden in Mineral Point.
Like his grandfather and aunts before him, Galle dries a few of the seeds each fall for replanting in the spring. Galle said he's been doing this now for about thirty years.
The reward for more than a century of diligence is about 120 pepper plants each summer. The seeds produce a mix of round hot and round sweet peppers. Galle also plants green peppers.
There's no specific heirloom seed name to them.
"The variety has gotten lost. The name was basically Italian pepper," Galle said.
After scooping out and saving some of the seeds to dry, Galle dries and cans the peppers themselves, and eats them fried and in recipes.  He still makes the fried pepper sandwiches that he has fond childhood memories of being served by his grandmother, Catherine Bertucci Galle.
His grandfather did not bring over tomato seeds. But Galle said he's found some heirloom varieties that work well for stewing and sauce. He grows about eighty tomato plants in his garden each summer. Many of them end up canned, as tomato paste, and as tomato-pepper mixes.
About once a month, using recipes handed down by his mother, Mary Consolo Galle, Galle and his siblings still gather for spaghetti, meatballs and crusty Italian bread. Sunday dinners were once "my mother's thing to do," he said. Mary Consolo Galle was born and raised in Chicago. Her parents, Joseph and Mary Consolo, emigrated from Italy.
Galle's first-cousin, Chuck Dahl, still lives in the south-side Mineral Point house that Charles Galle crafted a century ago by moving an old farmhouse to a city lot, and connecting it to a 19th Century stone miner's cottage. Dahl still makes Italian smoked sausage from a family recipe; it ends up in sauce, on pizza and in sandwiches.
"We grind the meat, season it, stuff the casings and smoke it for about two weeks," he said.
Like Galle, Dahl also makes his own sauce from garden tomatoes and peppers. Dahl said this year, for the first time, he is trying out some heirloom seeds he found at an Italian store in Chicago.
Once a year, in the fall, Dahl said family and friends get together and make mulligan stew, a tradition that dates back to at least his grandparents.
"It has tomatoes in it, pasta, garlic, barley, and vegetables — rutabaga, cabbage, carrots, corn, onions, celery; it's loaded," Dahl said.
He cooks it on an outdoor wood fire in a 28-gallon pot that is also a family heirloom.
It's not a recipe that was ever written down.
"My mother never cooked with a recipe; you just had to watch and pay attention," he said.
Over the years, many of the Italian families in Mineral Point intermarried. Many also followed their friends and family members from southern Italy and from other cities, like Chicago, to southwest Wisconsin. The result is a century-old spider web of interconnected surnames.
Joe Galle's grandfather's sister, from Chicago, for instance, ended up marrying a relative of Mary Mangardi McGuire's in Mineral Point.
McGuire, who graduated from Mineral Point High School in 1955 and remembers hearing her grandparents speak Italian to each other, said she didn't inherit any written recipes. It's not that her mother and grandmother didn't cook Italian food; they just never followed a recipe card.
"Everybody always asks me what my family spaghetti recipe is; I don't have one," McGuire said.
She does, however, remember the names of the ethnic Italian dishes that her family members prepared. Based on that, she has found recipes for minestrone soup, cannoli filling, tomato salad, and stuffed manicotti that remind her of childhood dinners.
McGuire said her grandparents, and her parents' generation, didn't limit themselves to ethnic Italian food and culture. They placed great importance on assimilating into American culture. Their cooking mirrored that.
"They were really into American ways," she said.
McGuire's grandmother made homemade noodles; traditional Easter ring bread with colored, boiled eggs set into it; and deep-fried Italian Christmas bread.
But she also "made the best apple pie I've ever tasted," McGuire said.
Her mother's cooking became influenced by Cornish traditions in Mineral Point.
"My mother liked to make tea biscuits and pasty and saffron bread," McGuire said.
Galle and McGuire graciously agreed to share some Italian family recipes.
McGuire's recipe for Minestrone soup appeared in the May edition of the Novelist Harold William Thorpe's newsletter. Newsletter subscribers have access to all back issues. Subscribe to the newsletter.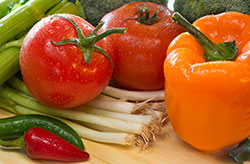 Joe Galle's recipes for Italian sauce and Italian meatballs.
Italian Sauce
Ingredients:
1. 1 lb. pork spare ribs or chicken pieces — legs, thighs, wings, and neck.
2. 1 medium onion (chopped) and three to four cloves of garlic (chopped).
3. A little salt and pepper
4. 1 qt. of stewed tomatoes and 1 pint of tomato paste.
5. 1 tbsp. each of basil, oregano, and parsley.
Instructions:
1. Cook chicken or ribs in 12-qt. sauce pan, stir meat until completely brown.  Add onions and garlic, simmer until onions are soft.
2. Add 1 qt. of stewed tomatoes, let tomatoes come to a boil.
3.  Add one pint or one large can of tomato paste. Stir, and then add a pint of water or two cans (use can tomato paste came in) of water.
4.  Then sprinkle parsley, oregano, and basil into sauce.
5. Add salt and black pepper to taste.
6. Let simmer for around an hour.
7.  Add Italian Meatballs (below). Meatballs should cook in the sauce for 30-45 minutes.
Italian Meatballs
Ingredients:
1. 1 lb. ground beef
2. 1 lb. ground pork
3.  Medium onion (chopped into small pieces)
4. 10 slices white bread
5.  5 tsp. each of basil, oregano, parsley, salt and black pepper
Instructions:
1.  Place beef and pork in bowl and mix together.
2.  Take 2 slices of bread and place over faucet.  Get bread moist and squeeze out water.  Do not squeeze too much, leave bread with a little water in it. Mix into meat. Repeat this process 4 more times.
3.  Sprinkle onto the meat about 1/5 of the onion and 1 tsp. each of basil, oregano, parsley, salt and black pepper. Mix into the meat. Repeat this process 4 more times.
5.  Take a small amount of meat mixture and form a meatball and add it to your sauce.  Repeat with the rest of the meat mixture. Meatballs should cook in the sauce for 30-45 minutes.
In Giddyap Tin Lizzie, first-generation Italian-American immigrants are loyal customers at Will O'Shaughnessy's Ford dealership. This award-winning book is available through Amazon, the publisher Little Creek Press, and many local bookstores. You can also download a sample chapter today.