Uncle Sam, in his late seventies, challenged my three children to a race.
He'd always loved and been attentive to children. He taught me to play checkers when I was a youth, and he didn't give any quarter. He'd explain what I should have done when I made a weak move, but he'd still take advantage. I wanted to win, so that motivated me to get better fast. He encouraged my efforts, telling me that if I kept improving, I would beat him before long.
And I did get better, even winning now and then. He was just as happy to see me win as to win the game himself, and he'd praise me for my improvement.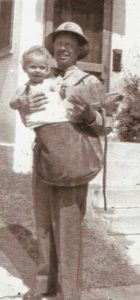 My Uncle Sam, a mailman who interacted with many people, was a country philosopher and a student of the human race. He'd explain his practical conclusions to me as if I were an adult. Although I didn't always understand, I loved to listen. He made me feel important, like a valued confidant.
Sam built a human-size dollhouse for his daughter, Dianne, a dollhouse that she and her friends could enter and enjoy. And he always kept pets for the youth to take pleasure in: fish in a pond, a puppy, a kitten, and even two ancient tortoises that lived under the dollhouse but would come out now and then for us to ogle and enjoy.
Lynn and I took our three children west to California during the summer of 1977. We stayed with Uncle Sam and Aunt Alice for several days, and my three children were fascinated by this fun-loving elderly man.
I'll not forget the day that he challenged six-year-old Lisa, four-year-old Chris, and two-year-old Tim to a race down his sidewalk. What fun—Uncle Sam tottering down the walk in his night slippers, and my three children trying their hardest to beat this wonderful man.
I was laughing so hard that I didn't notice who won. The children loved it—but probably not as much as my uncle. I'm sure the time with my children gave him fodder for daydreams and conversation with Aunt Alice long after we left.
I took lots of pictures, but when I sent them to be developed, they got lost in the mail. At first, I was angry, then disappointed. But I soon concluded that thankfully, although pictures can be lost, memories can't. Those memories of Uncle Sam, Lisa, Chris, and Tim hustling down that sidewalk will stay with me to the end of my life.