Throughout our family and her Ridgeway community, my Aunt Anne Paull was known for her beautiful and delicious angel food cakes. Someone contacted her before every family reunion, Thanksgiving dinner, or church supper to be sure that she'd remember to bring her renowned cake.
Angel food cakes were my favorite. That is, when Aunt Anne created them. She made one for each of my birthdays. All my friends said they were delicious and eagerly awaited an invitation to my next party, knowing they'd enjoy another of her scrumptious cakes.
That changed after she brought her cake to my thirteenth birthday celebration. Like all of her other cakes, it was gorgeous—made with large, fresh egg whites. Not twelve whites, but thirteen, and topped with a strawberry whipped cream that was dusted with confectionary sugar and topped with fresh strawberries. That cake, like all her others, looked beautiful—almost too beautiful to eat.
But with no hesitation, I was intent on assaulting that cake, knowing that, as the birthday boy, I'd get the first slice. I expected that slice to be light, tender, spongy, and oh, so sweet. I was ready, and it was time. I was handed a plate with that slice, and I took that first bite.
It was awful!
I couldn't swallow, but I wouldn't spit. I wouldn't embarrass my Aunt Anne. So I sat there with what must have been a pained look on my face.
By now, my best friend took a bite of his cake, but his bite didn't stay bit for long. He didn't have my sensibility for Aunt Anne. That piece turned around so fast that you'd have missed it if you'd have blinked. As it flew towards his plate he screamed, "This is awful!" And I knew he was right.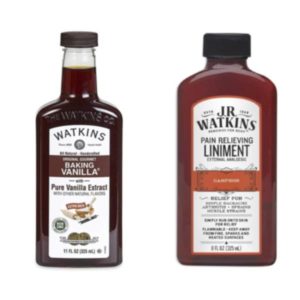 Aunt Anne, seeming rather confused, tried a piece of the cake and immediately knew what went wrong. She'd made a liniment cake.
She purchased her clear vanilla and liniment from the traveling Watkins salesman, and because the bottles looked alike, she must have gotten the two mixed up.
She agreed; that cake tasted awful. But as they say, "It's an ill wind that blows no good." This thirteenth birthday cake gave me a story to tell for the rest of my life.