I'd read all the Tarzan stories, but I didn't have a forest with trees to climb and vines to swing on—not until I visited my Aunt Anne and Uncle Earl's farm near Ridgeway. They had a forest, and they let me play in it, too.
My best friend, Denny Doyle, and I found books in our school library that told us that Africa wasn't just forests; it had thousands of acres of grasslands, too, just like the grasslands that stretched out as far as we could see behind our house.
We lived next to Madison, in Monona Village. A huge bay off of Lake Monona was a couple blocks away, and a channel off the bay ran through our backyard. Because there had only been a few houses built, most of the area was undeveloped, and most of the undeveloped channel land beyond our house was grassland—just like the African Serengeti that Denny and I read about.
I hadn't lived there but one winter when spring arrived and our African reading had just begun. So, I hadn't explored that great savannah behind my house, and the more I read about Africa, the less anxious I was to go out back and search for Dr. Livingston.
But Denny and I had active imaginations, and the more we talked, the more we decided that we had to explore our high grassland. He was ready to grab his Roy Rogers BB gun and plunge into our Serengeti, but as we read more, he, too, became less eager to take that plunge.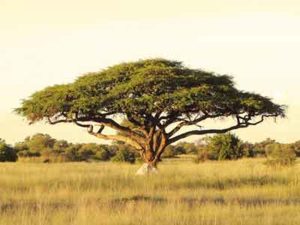 We read that African grasslands were the home of zebras, gazelles, giraffes, and wildebeests, but those didn't scare us much. Then we read that cheetahs roamed the grasslands, too. And that made us a bit nervous, but it was the crocodiles, leopards, lions, and hyenas that caused us to decide to wait awhile.
As I read more, I even became afraid to go near our backyard channel. I'd never seen any crocs in that water, but you never know. I finally decided it might be sensible to stay away from our channel, too. But I didn't tell Denny. I didn't want him to think me a scaredy-cat. I even had trouble sleeping because I was sure that I heard hyenas laughing in the middle of the night. I finally calmed myself by thinking it must be a nightmare.
Denny bucked up and pressed me to go on that expedition. He didn't seem to have the same dreams as me; he kept urging me to join him. I put him off by saying we wouldn't be wise to go into that big unknown when I didn't have a weapon to fend off those wild beasts—one BB gun just wasn't enough. That seemed to placate him for a while, but I knew it wouldn't for long. Besides, I was a year older than Denny, and I was embarrassed to be the cowardly one.
Finally, the day of reckoning arrived. I received a Daisy Red Rider BB gun on October 19, for my tenth birthday.
That rest of that fall was far too frightening to revisit it now, but I will tell you; I didn't approach that channel until I was sure those crocs had dug in for the winter.