On Christmas Eve, Dec. 24, 1914, British, German, and French soldiers on the war's western front disregarded explicit orders from their superiors, and threat of consequences including court marshal and even execution. They rose up out their trenches, put down their weapons, and celebrated the Yuletide together. Diaries and other accounts tell of a football game, the singing of Christmas carols, the exchange of gifts, Bible reading, and even a meal with the enemy. "Christmas Truce at the Front: Snowballs and Jokes With The Foe," declared a front page story in the U.K's Daily Mail newspaper on Dec. 31, 1914. Under that banner headline was a photo of British and German soldiers standing together. In an article in 2013, the Daily Mail looked back at this historic Christmas Eve. Here is an image of the actual Dec. 31, 1914 Daily Mail front page.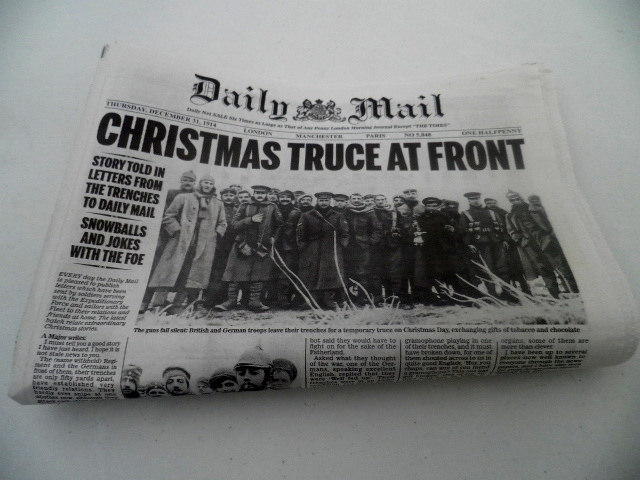 And here is an image from The Graphic, another British newspaper.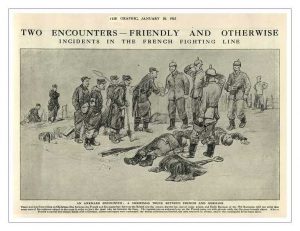 Excerpts from letters, journals, and memoirs of those at the scene, were reprinted in 2005 by the New York Times. Many books have been written on the 1914 Christmas Truce. Among the best are two recent titles: Truce: The Day the Soldiers Stopped Fighting, by Jim Murphy, and Silent Night: The Story of the World War I Christmas Truce, by Stanley Weintraub. As Christmas approaches one hundred years later, may we not forget the sacrifices made by our grandparents and great-grandparents in World War I. May we not forget the Christmas Eves they – and soldiers in other foreign wars– spent fighting for our freedom, an ocean away from all they held dear.
Music and videos related to the Christmas truce of 1914
The following music and videos show inspiration from the 1914 Christmas Truce.
Sainsbury's Official 2014 Christmas Ad, inspired by the 1914 Christmas Truce
https://www.youtube.com/watch?v=NWF2JBb1bvM
The Christmas Truce of 1914
https://www.youtube.com/watch?v=p05E_ohaQGk
Paul McCartney: Pipes of Peace
https://www.youtube.com/watch?v=J7ErrZ-ipoE
The Farm: All Together Now (With Lyrics)
https://www.youtube.com/watch?v=AGitfyUGvFA
The Farm: All Together Now (Dramatization)
https://www.youtube.com/watch?v=XBMDF21kBQk  
Books about the Christmas Truce of 1914