In Bittersweet Harvest, Will O'Shaughnessy convinces dairy farmers in his Wisconsin River community of Willow to organize a cooperative.  It's the 1930s, the Great Depression era.
"If we organize, we can buy in volume. We can sell in volume. We'd get better prices…I'd buy seed, and grease, and cattle feed. And we could sell through the co-op, too. We'd get better milk prices that way." – Bittersweet Harvest
Those who join Willow's fledging co-op hope that by pooling their buying power, they can purchase farm supplies cheaper. Conversely, they hope to get a better price for their milk by pooling it and offering greater volume to wholesalers. The Willow co-op gets off to a rocky start at initial meetings where farmers speak out both for and vehemently against it.
Willow is based on the real-life, small community of Avoca, Wisconsin. Avoca is located along the Wisconsin River in northwest Iowa County, about 25 miles west of Dodgeville. Early in the 20th Century, like a lot of rural Wisconsin communities, Avoca had its own farmer's co-op.
What is a cooperative? And how do they figure into Wisconsin history, and modern Wisconsin?
A cooperative is a member-owned business, organized locally, by neighbors who have a mutual need to be met. To read a more expanded definition of how co-ops work, and the principles that guide them, visit the website of the Cooperative Network, a group that today represents and advocates for cooperatives in Wisconsin and Minnesota.
Farmers in many small, rural Wisconsin communities started cooperatives early in the 20th Century.
Cooperative businesses, today, remain a powerful force in the commerce of Wisconsin, and the Midwest. In 2011, in Wisconsin alone, there were more than 1,000 cooperative businesses.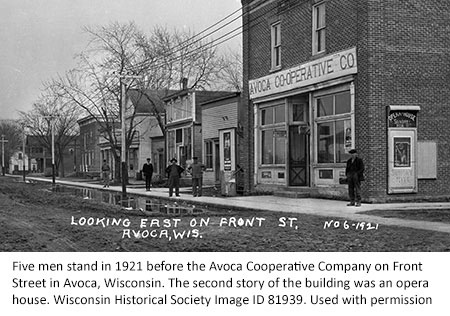 They're not all farmers' cooperatives. The UW Center for Cooperatives' 2011 Wisconsin co-op directory lists credit unions as well as agriculture, dairy, education, mutual  insurance, housing, rural electric, grocery, arts & crafts, farm credit, telecommunications, health care and pharmacies, media, labor, and biofuels co-ops. The two largest categories, accounting for more than half of the co-ops in Wisconsin in 2011, were agriculture-related and credit unions.
Early in the 20th Century, the Avoca Cooperative Company had a downtown store building on Front Street in Avoca. And it did pretty well. In 1913 the Avoca Co-operative Company bought from local dairy farmers, and then re-sold, about $17,000 in cream and agricultural products.
The company, at the time, clearly enjoyed local backing. About 200 people attended its annual dinner in 1914 in the opera house that was located on the building's second floor.  In 1912, a well-attended farmer's institute was held in that same upper hall.
But cooperatives had been around a long time before this.  Some historians point to examples of cooperatives in ancient history.
In modern history, cooperatives began to come into favor in Europe and the United States in the 1700s for largely the same reasons that Wisconsin's dairy cooperatives were later founded. They also advocated for their members; in southern states, co-operatives were formed to assist black farmers.
In the 1960s and 1970s, co-operative grocery stores began to open, in response to consumer demand for more natural, local and organic food.