Wyatt's Woods, written by Harold Thorpe and published in 2013 by Little Creek Press, is the fictional story of Red Eagle, a Potawatomi Indian boy who, three hundred and fifty years ago, carved a small bear out of limestone. It was lost during a legendary battle at Fort Mechingan, somewhere deep in the woods of what is now Door County, Wisconsin.
Flash forward to modern day. While spending the summer in Door County, a boy named Wyatt decides to look for the carving. Meanwhile, a Potawatomi boy named Robert listens to the story about his ancestor. Robert wonders, too, what happened to the fort and carving.
The Potawatomi are one of six federally-recognized Indian nations that today call Wisconsin home. The other five are the Oneida, Stockbridge-Munsee, Ho-Chunk, Ojibwe, and Menominee.
A seventh nation, the Brothertown, lost its federally-recognized tribal status in the 1800s and is working, today, to restore it. The Ojibwe are further divided into six bands: Lac Courte Oreilles, Lac du Flambeau, Red Cliff, Bad River, Sokaogon (Mole Lake), and St. Croix.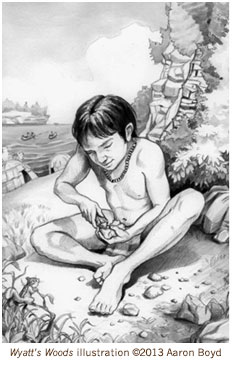 The Oneida, Stockbridge-Munsee and Brothertown Indians came to Wisconsin from New York in the 1820s. The other four nations have lived in Wisconsin much longer. The Potawatomi came to Wisconsin in the 1600s.  Each nation has its own unique language, culture and history.
Want to learn more about the Potawatomi and other Wisconsin Indian nations? This summer, take a day trip to a Wisconsin Indian tribal museum! Most Wisconsin Indian nations have a museum and cultural center.
The Milwaukee Public Museum also has Wisconsin Indian exhibits. And if you're headed to the east coast, the National Museum of the American Indian has sites in New York and Washington, D.C. The National Museum of the American Indian is part of the Smithsonian Institution.
Wisconsin Indian Nations Museums
Oneida Nation Museum
W892 County Road EE, De Pere, WI 54155
920-869-2768
Forest County Potawatomi Cultural Center, Library & Museum
5460 Everybody's Road
Crandon, WI 54520
1-800-960-5479, Ext. 7478
Menominee Indian Tribe Cultural Museum
W2908 Tribal Office Loop Road
Keshena, WI 54135
877-209-5866
Ojibwe Museum & Cultural Center
603 Peace Pipe Rd.
Lac du Flambeau, WI 54538
715-588-3333
Milwaukee Public Museum
800 W. Wells St
Milwaukee, WI 53233-1478
414-278-2751
National Museum of the American Indian
Washington, D.C.
Fourth Street & Independence Ave., SW
Washington, DC 20560
202-633-1000
New York
One Bowling Green
New York, NY 10004
212-514-3700