"You're thinking about that school teacher, are you?' Will felt himself blush. ~ Giddyap Tin Lizzie
For more than a century, on a hill on the east end of Main Street in Linden, Wisconsin, stood a school.
A two-story, wooden frame school building with a tall belfry was constructed in 1882. When it burned down in 1913 its replacement was of brick on the same site; that one stood until 1996. Today, a small monument remains.
My grandmother, Elizabeth "Lizzie" Stephens, was born in Linden in 1876 and grew up there. Many years later, in 1898, she married my grandfather, William "Will" Fitzsimons.
In my O'Shaughnessy Chronicles novels, Elizabeth and Will Fitzsimons are fictionalized as Will and Mary O'Shaughnessy.  In Giddyap Tin Lizzie, Mary O'Shaughnessy works prior to their marriage as a teacher in her hometown of Hinton, Wisconsin. Hinton is the fictional name I gave to Linden.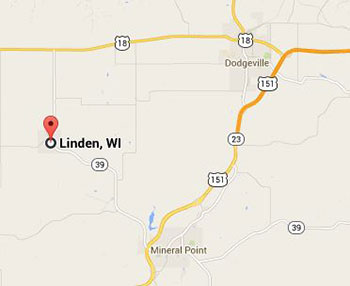 In real life, the tiny village of Linden, current population 550, is in northwest Iowa County, Wisconsin, eleven miles southwest of Dodgeville and seven miles northwest of Mineral Point.
The first white settlers arrived in Linden in the early 19th Century. Most, including the Stephens family, worked as hard rock miners. My great-great-grandfather, Nicholas Stephens, arrived in Linden from Cornwall, England in 1837 with his wife, one child, brother and sister-in-law. My great-grandparents, Annie and Joseph Stephens, had five children who grew up in Linden.
By the mid-19th Century, communities across Wisconsin were begin to see the importance of having graded schools, with a common curriculum that all state teachers could be trained to use.
In 1866, Iowa County School Superintendent Alexander Wilson commented in his annual report that he was encouraged by discussion in Linden about having a graded school; there were just two graded schools in Iowa County in 1865, in Mineral Point and Dodgeville.  "I am glad to learn that effort is being made in that direction (in Linden)," he wrote.
By 1869, it was done. Iowa County School Superintendent Samuel Parks said in his annual report that year that Linden was one of four local communities with a graded school. The others were in Mineral Point, Dodgeville and Avoca. Teacher training was also improving; Parks said he had handed out 195 teaching certificates in the county that year.
But a consistent curriculum and well-trained teachers were just two pieces of the puzzle. Linden also needed a solid school building.
In 1882, when my grandmother, Lizzie Stephens, was six years old, the residents of Linden decided it was high time they built a decent school.
In 1881, one local resident had called the current school "…our old, dilapidated, rat trap, wind-driven, smokey hole, ghost-forsaken, miserable specimen of a school house — beg pardon, we mean shanty —  (that is) is still disgracing our village…"
Linden held a community meeting in April 1882 at which they voted to move ahead. Later that year, as construction was wrapping up, the Iowa County Democrat newspaper ran this brief notice:  "J.P. Hankins is at work painting the new school building at Linden. When the building is completed it will not only be an ornament to the village, but will reflect great credit upon the people there for their liberality in the cause of public education."
At first, Linden School was only a graded school, through the eighth grade. In the fall of 1889, a high school program was added in the same building.
That happened just in time for my grandmother, Lizzie Stephens, to attend. My grandmother began attending Linden High School in the fall of 1890 and graduated in the spring of 1893, at age 17. At the time, the high school was a three-year program.  There were three graduates in her class.
Linden was one of six communities in Iowa County that had a free high school in 1895; the others were in Dodgeville, Highland, Mineral Point, Avoca and Cobb.
Immediately after she graduated, my grandmother attended a teacher training institute, in preparation for working as a teacher.  At the time, Iowa County's annual teacher training institute was typically held in Dodgeville.  A family photo of my grandmother's teachers' institute class doesn't specify where it was held. I assume it was in Dodgeville. She went on to teach at Linden School for five years, until she married my grandfather in 1898.
In these years, Linden was still a booming mining town. In 1903, Linden School had 23 high school students, two high school teachers and six graduates.  A fourth year of high school was added in the fall of 1904. In 1905, a large addition was built onto the school.
Then, on January 21, 1913, tragedy struck. Linden School burned down. One story is that men playing cards in the building after hours accidentally ignited the fire with a carelessly discarded cigar or cigarette. But a newspaper account at the time faulted a defective chimney; the school had a wood-fired furnace.
A new brick school quickly replaced it, opening that fall. Once again, all Linden students, through high school, were in the same building.
The architect and builder was Thomas Cretney, of Ridgeway, Wisconsin.  In addition to being a builder, Cretney was village president in Ridgeway and president of the Bank of Arena. He later represented Milwaukee County in the Wisconsin State Assembly.
During World War I, Linden High School students showed that they were civic-minded.  In April 1917, a biology class organized a "Linden War Garden" contest.  Teams agreed to include in their garden "at least these staple war munitions: potatoes, white navy beans, cabbage." The contest was not limited to students; community members were also invited to participate. Cash prizes were awarded; the grand prize was $6.
Tom Faull, a lifelong Linden resident who has been its village president since 1989, was a member of Linden High School's last graduating class, in 1959. There were 11 graduates that year.
The year before, in 1958, the Iowa-Grant School District had been created by consolidating 26 former area rural and village school districts. At the time, it was the largest such consolidation in the state of Wisconsin, in terms of the number of former districts.
Faull and Lois Alton, who was one of four graduates in 1954, fondly recall Linden High School's final years.
Linden School lacked a gymnasium, they recalled. So school plays were put on, and the basketball team practiced, in the upstairs of a brick grocery store building a few blocks away, across from Linden United Methodist Church. Proms were held there, too. Today, that building has been broken into apartments.
Beginning in the mid-1950s, basketball games, physical education classes and other large group activities were held at a newly constructed community building downtown. It still stands today.
Alton, who grew up on a farm southwest of Linden, recalled that there was an actual bus for only one year. Then, a driver hired by the school used his own car to pick up rural students.
And they remember teachers, like Miss Florence Taylor, who lived in a large house in town and taught high school English and math for roughly fifty years, from around the turn of the 20th century through the 1940s.
Alton and Faull said the decision in the 1950s to close Linden High School was met with local resistance.
"When you lose your school, you lose a part of your community," Alton said.
After a transitional year in which students fanned out to several different schools, all area high school students began attending the newly constructed, consolidated Iowa-Grant High School near Livingston, Wisconsin, in the fall of 1960. The new high school was eight miles from Linden.
Linden School continued on as a combined elementary-junior high school, serving students through eighth grade. Then, in 1982, school bells rang out in Linden for the last time.
Beginning in the fall of 1982, and for the ensuing decade, Linden children through eighth grade were bused to Cobb, Wisconsin, six miles away.
Then, in 1992, all area kindergarten through eighth-grade students from Cobb, Rewey, Linden, Livingston, and Montfort, and the surrounding rural areas, began attending the new Iowa-Grant Elementary/Middle School near Livingston, on the same campus as the high school.
Linden School, meanwhile, sat vacant for more than a decade before it was finally felled by a wrecking ball, amid a swirl of controversy.
In 1993, Linden School was added to the National Register of Historic Places.  A Madison, Wisconsin developer proposed renovating it into apartments, but later backed out. The property was sold in 1994 to local business owner Dean Rickard, the building was removed from the National Register, and Rickard demolished it in 1996.
This year, a new Linden Historical Society was created that hopes to help preserve remaining memorabilia, including pictures, of Linden School. President Jim Jewell said the group is working toward becoming a local affiliate of the Wisconsin Historical Society.  It held its first annual meeting last month, and has begun to produce a monthly newsletter.
Jewell said the hope is to someday have a historical museum, but that is for now a far-off dream. "Those things take time; we just have to take one step at a time," Jewell said.
For more information on the Linden Historical Society or Linden School, contact Jewell by email at: minerjim7@gmail.com
Photo Gallery
If you haven't read my novels yet, I encourage you to download a free sample chapter. Let me know what you think!