I thought that my mother's memoir, From High on the Bluff, contained interesting stories that I wanted to expand upon. So I added a bit of my own material and sent it off in 2003 to be evaluated by Writer's Digest. At this point, it was still non-fiction.
Writers' Digest responded, planting the idea in my head for the first time that instead of non-fiction, I should re-tool my mother's stories as a fictional novel. However, to make it fiction, I would need to add to the existing succession of interesting anecdotes a plot line to tie it all together.
And I would need to learn how to write fiction.
Show the story
The main difference between writing non-fiction and writing fiction is when you write non-fiction you tell the story and when you write fiction you mostly show the story.
This means that instead of directly describing a character to the reader, you present enough information through their words and deeds for the reader to draw his or her own conclusions. For example, instead of writing that "Walter is a kindly man," you would show it through descriptions of Walter's generosity and kindness spaced throughout the story.
You might tell how Walter volunteers each Christmas to help the Salvation Army raise money for needy families, how he walks a mile to the local humane society each Wednesday to help care for the animals, and a myriad of other kind things he does for family, friends, and community.
The author may never say that Walter is a kindly man, but you'll nevertheless lead your readers to that conclusion by showing his many kind actions throughout the story.
Fiction or non-fiction
The question of fiction vs non-fiction posed a great challenge for me, as it does for any writer trying to capture their family story.  I wanted this to be mostly a true story, based on my mother's actual life. But I didn't know more about her. I didn't know more about the experiences and events in-between the anecdotal dots that she had shared with me as we wrote From High on the Bluff.
I didn't know what the people in my mother's memoir actually said or thought, or their states of mind. And any chance of getting more information about her life, that would connect it all, was slipping away with her.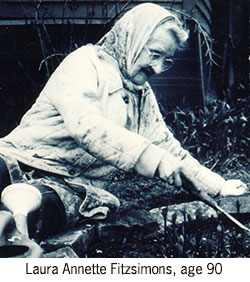 Mother was 93 years old when we published From High on the Bluff in 1999. She was 97 when Writer's Digest got back to me. By then, her memory was fading fast. I would not have many more real-life stories to share.
Where to begin
I knew I needed more material to fill out a novel, but I didn't have additional factual information and had no place to get it.  At this point I accepted that I would have to create fictional events, relationships, people, and conversations.
If I was going to make her story come alive, I had to fictionally add to it. But how to proceed? It was important to me that the narrative would represent and complement the real life events and people from my family history, from my mother's story.
How did I mix fiction into non-fiction into one cohesive story? By starting with the people and places that I knew best — my mother and two of her sisters — and using that understanding as a solid base for the fictional story I was building.
For example, although Mother had one brother and three sisters, (also one brother who died in infancy) I didn't include the living brother and one of the sisters in my O'Shaughnessy Chronicles.  I limited my characterization to the sisters that were essential to the development of my story and to the people I knew best—my mother, Laura, and her sisters, Anne and Alice.
Learn about the real life people that inspired the characters in my books. I have written up some profiles called
real life characters
. Check it out sometime!
By rooting your approach in the people you feel you know best you give yourself a basis for which to judge the scenes you create. Try to invent the kinds of people and events that would still have influenced and produced the family that you know and the people that you have interacted with.
Decide who are the most important people in the development of your story. This will help guide the creative decisions you'll have to make as you add fictional elements into your family history.
Get familiar with writing fiction
Another advantage to giving my mother 2 siblings instead of 4, (and those the aunts I knew best) is that I was just beginning to learn how to write fiction so I wasn't confident in my ability to fully develop characters.
In order to blend the fiction and non-fiction and still remain true to the family saga I was going to have to learn a craft: how to write a a new kind of historical fiction novel. A novel type that I now call family fiction.
I decided to intertwine my learning with the writing at the same time. In hindsight that was kind of crazy, and probably not something any normal person would do. I liken it to someone performing algebraic functions while learning basic arithmetic. But I was desperate to move forward. So I searched for successful writers and editors to get the help I needed.
I read all or parts of dozens of books about writing. I was attracted to books that told the "How" of writing and avoided non-concrete material like books that told me how to find my muse. (I can hardly find my pencil, so I knew there was no chance I could find something as nebulous as a muse!)
When one was especially helpful I'd sometimes contact that author and ask if he or she would review and give feedback on my story (and I offered payment of course.)
With guidance from Dave King, co-author of the book Self-Editing for Fiction Writers, I completed Strawberry Summer. It was a novel about my mother (I called her Catherine) in her old age. (Strawberry Summer wasn't published at the time, but it will be soon, later this year.)
With assistance from several editors over the course of a few years, we reworked Strawberry Summer and the beginnings of a second manuscript into what became Giddyap Tin Lizzie: The Long Road Back to the Plow.
All of the editors I was fortunate to work with were helpful, but not in a way where I can provide a list of the specific things I learned from each. They provided suggestions about writing in general, and advice about my content that helped me understand how to approach fiction. The process helped me to find my confidence and my voice.
They guided me as I navigated the challenge of blending fiction and non-fiction into a narrative that was compelling and true to my mother's story, yet did not require someone to know my family in order to enjoy the tale.
The editing process could be bruising, but I am grateful for the experience. Writing and publishing these stories has been rewarding in ways I could never have foreseen. (See Part 1 of this series: Recording your family's history may have unexpected effects.
Family fiction
For me, I was finally able to make progress on my novels when I rooted the narrative in the relationships of the family members I knew best, my mother and two of her sisters. I believe that I've succeeded in describing the relationship among these three fictional characters as I knew them in real life.
That's not to say that other family members might have a different opinion about those relationships. They maybe had different experiences that led them to a different viewpoint. But I'm confident that not only have I represented people as I knew them but that, also, I've included most of the events Mother wrote about.
Still, I've created enough imagined characters and unsubstantiated actions by real-life characters that my stories must be characterized as fiction. Or as I call it: family fiction.
How will you start?
Now it's your turn. Ask yourself – who are the two or three people or relationships in your family's history that you know best? Which personalities do you understand or relate to well enough that you could give them things to do and words to say and develop a believable character?
Write Your Family Story was an early regular feature in my e-newsletter. Then we moved the series online.
We are actively updating all the articles in the Write Your Family Story series. In addition, we will be pulling all 8 articles together into a single downloadable PDF.
Join my email list
to receive updates and the link to that document as soon as it is ready.
Next: Write Your Family Story – Part 3: Your Goals and Active Verbs
---
Referenced
Self-Editing for Fiction Writers by Renni Brown and Dave King