©2016 Harold W. Thorpe and Karyn Saemann
This article is 4th in our four-part series on wheelchair dance in Wisconsin.

The Kehl School of Dance in Madison, Wisconsin, is marking three years of offering Sitting Ballet to students who have limited ability to stand.
J. Matzner, an instructor at the Kehl School, piloted two beginning-level Sitting Ballet classes in January 2014.
One class was for adults, one for children. They were open to dancers who used an assistive device, such as a walker or a wheelchair, who wanted to learn ballet technique and who had use of and wanted to build strength in their upper body. Some dancers took class sitting on a furniture cube.
"At the Kehl School, we believe everyone should have the opportunity to dance," Matzner said.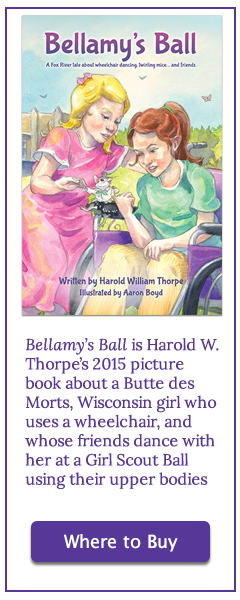 In the fall of 2014, Sitting Ballet was offered as part of the school's regular class schedule, Four girls ages 9 to 11 enrolled. They went on to perform in Kehl's spring recital in May 2015.
In May 2016, some members of the Sitting Ballet class performed alongside standing dancers in the spring recital. This recital had an environmental theme and their dance was Broadway-style to the song "Singing in the Rain."
The standing and sitting dancers took class together on days when they rehearsed together and "everyone involved had a lot of fun," Matzner said.
Like Kehl's other ballet classes, Sitting Ballet technique is taught using French terminology. Arm movements are the same as in traditional ballet. However, some movements standing dancers do with their legs are done using the arms.
"….at the barre (sitting) dancers have learned tendu, degage, coupe, developpe, rond de jambe, pas de cheval, and grand battlement, which have been transposed to be performed with the arms," Matzner explained in an article she wrote about Kehl's Sitting Ballet class that was published in the Journal of Dance Education in September 2015.
"Changement is a weight shift of the torso from side to side instead of a jump with changing of feet," the article explained.
As they become more skilled at transposing lower body movements to their upper bodies, it's Matzner's hope that Sitting Ballet students will be able to take any standing ballet class.
Matzner wrote in the Journal of Dance Education article, that one of the long-term goals was for Kehl's Sitting Ballet dancers to "learn enough ballet vocabulary and technique used in both standing and Sitting Ballet, so those who wanted to continue to advanced levels would be able to transpose the combination given by any ballet teacher."
Matzner said offering a mixed-ability class is Kehl's next step. "We're working toward that goal," she said.
Matzner bases her teaching on the wheelchair dance technique of Kitty Lunn, a professional dancer who founded Infinity Dance Company in New York City after a 1987 fall on the ice left her a paraplegic.
Lunn's Ballet Technique for Students Using Wheelchairs, a DVD for dance teachers, is sold on the websites of both Infinity Dance and the National Dance Education Organization.
Some of Lunn's rehearsals and performances can also be seen on YouTube.
This article is 4th in our four part series on wheelchair dance in Wisconsin.