©2016 Harold W. Thorpe and Karyn Saemann
Sharon Saltigerald isn't priming professional wheelchair dancers.
"I'm never going to be that dance teacher," she says.
Her aim is far simpler: bring joy to severely disabled people through music and movement. It need be no more complicated than having a caregiver push their wheelchair around a room, to a good pop, country or classical beat.
The people who attend her dances may have very limited ability to move their bodies. Some can't move at all on their own. But they might be able to show they're enjoying themselves by smiling, or nodding their head, Saltigerald said.
Over the past three years, the Appleton, Wisconsin resident has organized a series of free dance parties for people who use wheelchairs and walkers, accompanied by caregivers and family members. There's been a mother-daughter dance; a "Rock Around the Christmas Tree," dance with holiday-themed music; "Thankful for Me," a Thanksgiving-themed event with art and dance; and even a Fourth of July-themed "Party in the USA."
The dance parties are open to those with more ability to move, including those who do not need a wheelchair but who use an assistive device such as a walker, Saltigerald notes.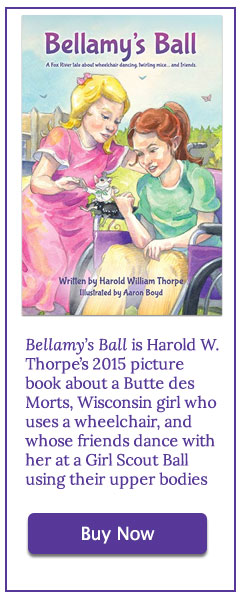 Wheelchair Dance Sport Association (UK)
Saltigerald, who moved to Wisconsin from the United Kingdom in 2013, has the backing of an organization called the Wheelchair Dance Sport Association (UK). Founded in 2006, the charity is the UK's national governing body for wheelchair dance sport, and is affiliated with the International Paralympic Committee (IPC).
Since relocating to Wisconsin, Saltigerald has travelled back to the UK several times to be certified by the Wheelchair Dance Sport Association (UK) to teach wheelchair and rollator (walker) dance.
Saltigerald, a former member of Wheelchair Dance Sport Association (UK)'s board of directors, is currently its only trained instructor in the United States, said Iain Richards, marketing and media officer for the organization based in Watford, England, about twenty miles northwest of London.
Everyone can Dance! the group proclaims boldly on its website. It says it works "for those who would otherwise be excluded from dancing."
International competition
While Saltigerald's events are purely for fun and socialization, the Wheelchair Dance Sport Association (UK) has another purpose. In addition to training teachers like Saltigerald to host informal dance parties, it also organizes competitive wheelchair dance events in the United Kingdom that can lead all the way to international competition recognized by the IPC.
"Our aim is to promote and develop wheelchair dancing as a sport and leisure activity across the country, to raise the standard of instruction and competition in the UK and internationally at all levels, as well as making dance, in whatever form, FUN, exciting, and something that individuals who are part of this association and who take part in wheelchair dance are proud to say "I can do that,'" Wheelchair Dance Sport Association (UK) says on its website.
In countries around the world, similar organizations exist that promote wheelchair dance and have ties to international competition.
Recently, the competitive sport which has been governed by the International Paralympic Committee (IPC) since 1998, was rebranded Para Dance Sport by the IPC.
Para Dance Sport is not actually part of the Paralympic Games, which will be held in 2018 in South Korea. However, every-other year, the IPC, in cooperation with an international group called World Para Dance Sport, holds the Para Dance Sport World Championships. The 2017 Para Dance Sport World Championships are coming up in Malle, Belgium Oct. 21-22. Hundreds of dancers from twenty-five countries are expected to participate.
Para Dance Sport competitors can dance alone in a wheelchair; as a couple with two people in wheelchairs; as a couple with one standing dancer and one person in a wheelchair; or in formation dances with up to eight couples. Allowed Paralympic dance styles are just about anything – from the waltz to hip hop, samba and even belly dance.
Appleton dance parties
Lauren Stack may never participate in the Para Dance Sport World Championships.
But she and her mom, Amy Stack, who live in Oshkosh, Wisconsin, did have an awful lot of fun at a recent event Saltigerald organized in nearby Appleton.
Stack brought Lauren, then seven, to Saltigerald's July Fourth-themed "Party in the USA," in 2015.
Stack describes Lauren as "functionally a quadriplegic." She has limited use of just one arm, cannot hold up her head and cognitively is at a preschool level.
As wheelchair dance has grown in popularity in the U.S., Stack admits she's wistfully watched pictures appearing on the internet of girls Lauren's age, in wheelchairs, in ballet recitals. But these children typically have control of their upper bodies. That's not possible for her daughter.
"She's too disabled for a lot of the disabled stuff," Stack said.
Saltigerald's event was different.
Though they must be accompanied by someone who can push them around the dance floor, wheelchair participants aren't just passive players at Saltigerald's dance parties.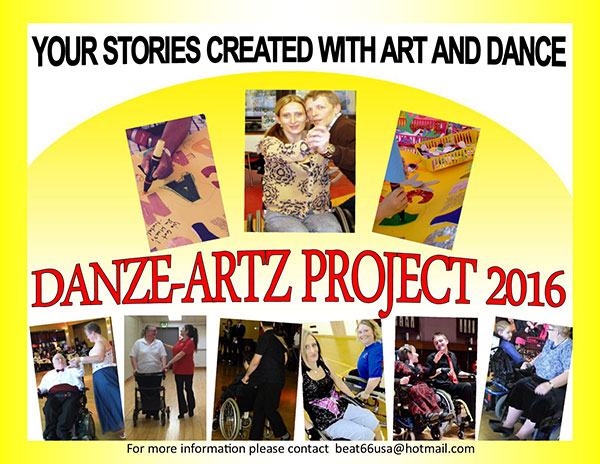 In a large community center room, Stack and Lauren were joined by others in wheelchairs, also being pushed by caregivers. Saltigerald played a variety of music, from pop to country to classical, Stack recalls, and directed participants to begin in one large circle. From there, they spun and crisscrossed and moved around in a social dance that Stack likened, sort of, to square dance.
Saltigerald directed caregivers to face wheelchair participants while they danced. That, Stack says, felt revolutionary.
"Typically, when Lauren's in her chair, I'm behind her. This was a chance for us to engage, face to face, without that barrier.
"We were looking at each other and enjoying the music and reacting to each other," she said.  "That's not something that happens very frequently for kids in chairs."
"It was really unique. I've never seen anything like this before. It was such a neat opportunity to experience dance with someone who does not have the motor skills to dance."
The atmosphere in the room was one of full inclusiveness, Stack said.
"The people in the chairs were equal to the people on their feet. Everybody had an equal part in the dance."
Saltigerald also brought out puppets, among her arsenal of additional materials that stimulate participants and just add fun.
Looking back, "we felt so included and welcome," Stack recalls. "It was really cool, a very positive opportunity."
For more information on Saltigerald's dance parties, e-mail: beat66usa@hotmail.com
UK roots
Growing up in the UK, Saltigerald took traditional dance classes. As an adult, she began working as a caregiver in the homes of severely disabled people. Music and movement naturally found its way into that work.
When she put on music, it inspired elderly people she cared for to tell stories about their youth. Songs drew out their memories about dancing when they were young.
She would put on music while she did people's laundry, and push them around.
In the 1990s, she began setting up in informal dance parties in care homes, inviting residents, their families and staff members to move to a rhythm. She organized a community-wide all-abilities talent show to raise money to start an inclusive theater group. That theater group ultimately was created, and performed for several years.
Anyone can be a star, Saltigerald says. But the world puts up barriers.
"I have a zillion stories about individuals just wanting to dance, sing, perform, and not ever being given the opportunity," Saltigerald said. A woman who joined her theater group, Saltigerald recalls, told her she was thrilled to be cast a something other than a tree, which had been the types of stationary, backdrop rolls she'd been given as a child.
"As I became an adult, I saw the world wasn't so accepting, and…there was no reason it shouldn't be," Saltigerald went on. "The arts can work as a voice, a platform to express needs, equality, emotions – everything — and can be a great way to bring people together."
For some of the people Saltigerald works with, it's all about the costumes.
"I have a lady that I dress in a ball gown," Saltigerald says. "When we put this beautiful gown on her, she looks like a fairy. She knows that she is going to get to dance when she sees me."
For another woman, Saltigerald sewed a tutu. "When she put on that tutu, she was as much a ballerina as the most famous ballerina in the world."
Inspirations
Saltigerald counts as her inspirations both the Wheelchair Dance Sport Association (UK) and Auti Angel, a hip-hop dancer and star of the Sundance Channel's "Push Girls," a reality show about four women who use wheelchairs.
Saltigerald calls the Wheelchair Dance Sport Association (UK), "real pioneers…the most dedicated people I have ever met."
Angel, meanwhile, has become a personal friend. Angel, a rising star who had danced with well-known hip-hop artists like LL Cool J, was paralyzed from the waist down in a car accident in 1992. Today, Angel still dances professionally, in her chair. Saltigerald met Angel in Chicago in 2015, at an inclusive dance event.
>> In a four part series we look at wheelchair dance in Wisconsin. To receive notification as these articles are published, subscribe to our email list.