©2016 Harold W. Thorpe and Karyn Saemann
In the third-grade, Elizabeth McVeigh started a Flying Fingers club, where classmates learned to sign with a hearing-impaired girl.
The name was the same as a popular series of children's 1990s mystery books, The Flying Fingers Club, set at a school for the deaf.
"I just really wanted to get to know the most unique person in the room," recalls McVeigh, now 26.
She went on to study sign language interpretation at UW-Milwaukee.
"It became a huge passion of mine."
Dance and theater, too, have been lifelong passions for McVeigh.
Today, at Brookfield Center for the Arts, she directs Believe, a dance and creative movement class for children ages 4 to 18, who have disabilities l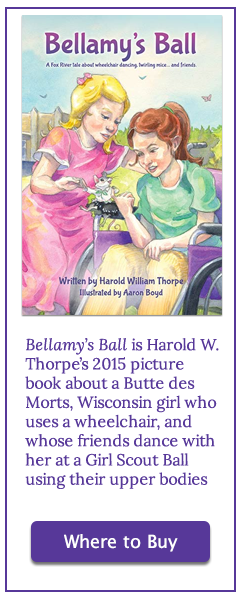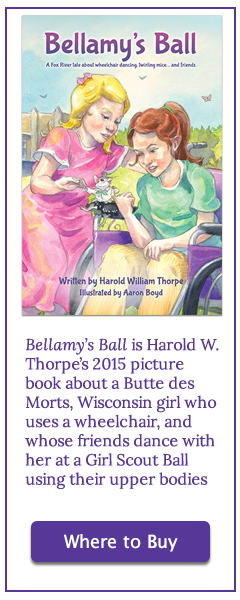 ike Down Syndrome that leave them cognitively delayed.
Created in 2013, McVeigh took over its direction in 2014. It's getting noticed. In the past year, enrollment has grown from 10 to 15 students.
The hour-long weekly Believe class starts typically every Saturday, with stretches and warm-ups. Then it's on to skipping, running, and playing movement games, "that get the kids laughing and connecting."
McVeigh has introduced yoga and tumbling. "They know some ballet terms," she said. "We've done some choreography, and we just tried lyrical dance."
"I'll throw on a random Kidz Bop and we'll dance all crazy with pompons."
Recently, the class took a twist when the families of two middle-school-aged girls who use wheelchairs, but aren't cognitively delayed, asked to enroll.
Relaying their progress, McVeigh chokes up.
Moments into her first day in Believe, one of the girls unexpectedly slid out of her wheelchair to her knees. She took the rest of the class on the floor.
"She didn't want to be tied down," McVeigh said.
They decided to move her into a mainstream tap class.
When seated in a chair, she has enough leg strength to audibly tap her feet on the floor.
"It was very cool to watch our tap teacher adapt," McVeigh said.
In her first recital, dress in a frilly black and green outfit, seated centerstage, tap shoes strapped to her tiny feet, she tapped in place to "Don't Rain on My Parade," while her partner danced around her.
"She was so confident on stage," McVeigh said. "Now, she's begging us to let her try lyrical. My program director is a little nervous, but I've told her, 'it's going to be great.'"
The second girl was similarly moved to regular jazz and hip-hop classes.
She, too, performed in a recent recital, dressed for the hip-hop piece in an athletic suit and tennis shoes that matched the rest of the dancers.
McVeigh admits she cries at every recital. "I just love these kids," she says. "They are so amazing."
Of course, there are challenges.
Working with her Believe class, it can be hard to not second-guess herself, McVeigh admits.
"Sometimes you think you're not getting through to the kids. Am I doing the right thing? Then, out of nowhere, they come in one day and know their routine perfectly. And you're like, 'wow, I am reaching them!"
She worries, sometimes, that she's not pushing them as hard as other kids.
"Am I being too complacent? I want to challenge them, I want to keep the class fresh and current. But trying new things can be scary. What if I bring in this concept and they don't understand it?"
But such concerns pale beside the rewards.
An 18-year-old, lifelong nonverbal girl said her first words after enrolling in Believe.
"It has changed her life. In class, now, she shouts out dance terms," McVeigh said. Recently, for the first time, she called her mother 'mom.'
What's in the future?
"My goal is for the program to continue to grow," McVeigh says, ""I'm looking to add other aspects of self-expression, and to find new ways to reach these kids."
Photos by Miss Jessica Peck
>> In a four part series we look at wheelchair dance in Wisconsin. To receive notification as these articles are published, subscribe to our email list.